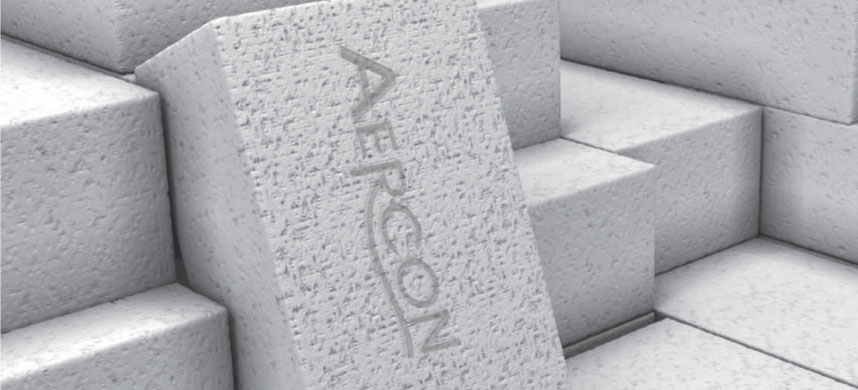 We, at

India, are pioneers in the production of superior AAC Blocks or Autoclaved Aerated Concrete Blocks, which are made of a blended proportion of Fly ash, Cement, Lime, Gypsum, Aluminium powder and water. These blocks are our premium products and we are known for these AAC blocks. Though we have a stipulated dimension for our products, we also confirm to our clients' needs.
Whether you're an architect, engineer, developer or builder, It's worth taking all the time you need in getting to know more than AAC products. AAC block has been in use in Australia, Europe, USA, UK and in many other nations for more than 50 Years at least. The AAC Blocks made by us at Aercon India are manufactured by combining Fly ash, Cement, Lime, Gypsum, Aluminium Powder & Water. AAC Block further cured in Autoclave under the high steam to give its desired strength.
Reason to choose AAC Blocks

India have come up with these new age building blocks, which perform better than the burnt clay bricks, which are being used extensively worldwide for ages now. However, there are several advantages of using Autoclaved Aerated Concrete blocks over bricks. Let us see how and where our blocks can benefit you.
We, at

India, work towards manufacturing the latest building blocks for modern day edifices - Autoclaved Aerated Concrete Blocks, popularly known as AAC Blocks. In India, this is relatively a novel concept as compared to the rest of the world. In terms of usage of the AAC Blocks, we can say that our blocks are increasingly being used for constructing buildings in the most environmental-friendly manner. Yet, these blocks are very light in weight, high strength & cost effective.

Use of AAC Blocks
AAC is the material of choice for all building applications including homes, Commercial, Industrial, Schools, Warehouses, Hotels, Hospitals, Retail, Offices, High-rises.....
Our Pride AAC Blocks V/s Traditional Clay Brick
Parameter
Aercon AAC Block
Clay Brick
Size
625x240x75 to 250mm
600x200x75 to 250mm | or as per customer's requirement
230x75x115mm
Precision in size
1.5mm( + )
5mm( + )
Compressive strength
3.0 to 4.0 N/mm2(IS 2185, Part-3)
2.5 to 3.0 N/mm2
Dry density
550-650 kg/m3(oven dry)
1950 kg/m3
Fire resistance
2 to 6 hour (Depending on thickness)
2 Hour
Sound reducing index
45db for 200mm thick wall
50db for 230mm thick wall
Mortar consumption per M3 with 1:6
0.5 bag of cement
1.40 bag of cement
Thermal conductivity
0.16 W/mk
0.81 W/mk
Maintenance
Less due to its superior properties
Comparatively higher
Energy saving
Approx 25% reduction in air conditioner load
No such saving
Construction speed
Very high due to bigger size, light weight
Comparatively lower
Quality
Uniform and finished
Normally varies
AAC Blocks Construction Cost Effective
Easier to install
AAC various size option available
Saving in steel reinforcement
Saving in mortar
Saving in plaster
Reduction in wastage
Long lasting
Reduction in HVAC load
Saving in power infrastructure
Saving in labour
Saving in time